The Allison Academy basketball team is balling!

The varsity basketball season has begun and our athletes are ready for games and to show off their impressive ball skills against other schools. The players have exercised and trained for the season for the past few months and they are all suited-up for new challenges in their favorite sport.
The sports spirit at Allison Academy is greater than ever when the season starts – the vibes and cheers of a game well played are already spreading through the hallways.
See how our incredible and talented players are preparing for the upcoming games and check out the game schedule – we can't wait to see you support our team, the green jerseys!
Always confident about winning
Athletic excellence is a very important aspect of education in our school and the talented boys in our basketball team have been working hard and training even harder in order to achieve a victory. Months of dedicated training and developing court strategies have paid off and our team definitely has great potential for winning games with style this season.
Encouraged by getting their new jerseys, our players are ready to have a face-off with other great teams! The new, dashing jerseys in Allison green, with some black stripes, represent the fierceness of our school's athletic spirit, and were designed by our students themselves. They also represent all the values of our school, making our team carry themselves on the court with special swag and confidence and get into the mood for winning!
Excited for the upcoming games!
Tradition is also an important part of Allison Academy's values. Hence, we always strive to keep up with it, especially when it comes to cheering on our sports teams and motivating them.
Performing the national anthem before a sporting event is an American tradition. This week, a high school junior student honored that tradition by performing the "The Star-Spangled Banner" acapella at our first home basketball game. Performing in front of large crowds can always be nerve-wracking and challenging, but Allison students know that they have the support of their peers, teachers, and community, which boosts their confidence and determination.
Sporting events allow for students, families, and spectators to bond, foster school spirit and pride in being a part of our educational community. We are ready for the excitement of the basketball season and we certainly believe that you are too!
CHECK THE GAME SCHEDULE
The schedule for the upcoming games is out! Get ready to support our dazzling team in green and ball with us at Allison Academy!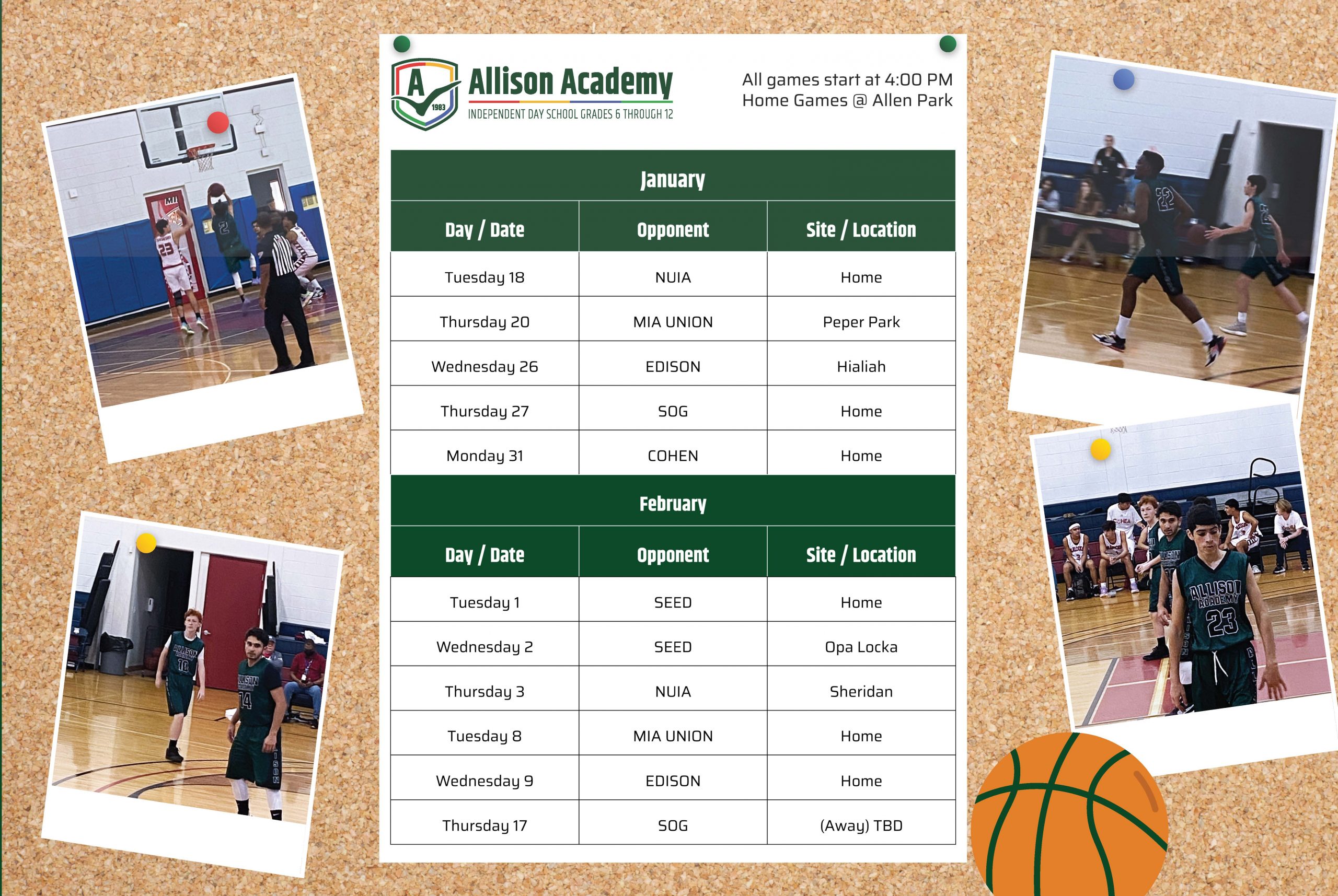 Note: Game schedule is subject to change and some games are canceled same-day, so always check with the school.