Allison Academy always encourages students to implement their knowledge, and this can be done in a highly creative fashion! Science projects are important not just because they enable students to practically implement their knowledge, but because they allow students to develop other skills that are important for their education and productive thinking.

Our school strives to provide students with an environment where their work and creativity is presented not just to other students, but to the wider public, as well. Hence, their dedication is acknowledged and rewarded as it should be!
The latest science project of Allison Academy students shows us how biology skills can become fashionable in a fairly simple way!
Cells are chic!
Everyone knows that cells are the basic structures of all living organisms. But how can we use them as a fashion accessory and make a biology lesson cool?
This week, the students premiered their animal and plant cell-themed couture. Teams of students worked hard on designing unique and creative T-shirts with cell prints on the front and detailed descriptions of animal and plant cell functions on the back.
Not only did this project introduce new fashion items students can wear in class, but it also created an opportunity for them to improve their skills in a creative manner. In addition, these T-shirts were a perfect way to share interesting facts about cells (which are easily forgotten) in an instructive group discussion.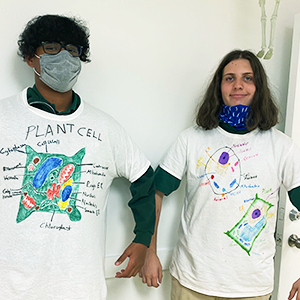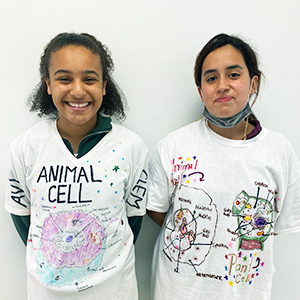 Creativity makes learning fun!
Allison Academy teachers strive to make learning interesting and unique so as to enable students to acquire knowledge as efficiently as possible. Approaching scientific (and other) projects in an interactive and creative manner can only boost the students' enthusiasm when it comes to knowledge acquisition.
Science projects carried out in this manner require students to use and enhance the numerous skills they have gained both in and out of school. Such activities give students the opportunity to think creatively and logically from different perspectives, which entails mathematics, science, writing, reading, critical thinking skills, etc. Students also develop the ability to organize their time and resources constructively so as to complete the projects within the deadline.
Finally, the moment when they present their projects to each other is always rewarding for them in every sense.