The month of December at Allison Academy is marked by a festive atmosphere and events organized in anticipation of the holidays.

As this year draws to a close, we look back at some of the activities that students enjoyed and we continue to make memories that we will cherish! A magical December at Allison Academy brought joy and merriment throughout the school. Our hard-working students once again proved their ability, creativity, humanity, and talents through numerous activities organized in anticipation of the holidays. To find out what kind of activities we are talking about, what our students were most looking forward to, and why the past month at Allison Academy was magical, read below.
Allison's annual Holiday Toy Drive
Allison Academy's students are compassionate, always think of others, and they especially express their benevolence during the most beautiful time of the year – the holiday season. The principle of "sharing is caring" is very much implemented by our students, especially at this time of the year. They continue to maintain our norm of giving back and helping those in need. With that goal in mind, the Allison Academy's Annual Holiday Toy Drive was organized this year as well.

At the beginning of December, we decided to spread the joy of holidays and make children in need happy with the toys we collected from December 1st to December 15th. We have collected all donations and we can proudly say that we have fulfilled holiday wishes and brought smiles to children's faces with new toys!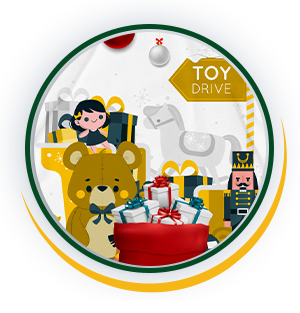 Step by step to celebrate the holidays in our truly unique way
When teamwork, creativity, and the talents of our students come together, we get an organization that guarantees great results! This year, our diligent students organized themselves to decorate the school and prepare everything for the holiday events. Glittering decorations were placed all over the school and even snowflakes appeared!
The real holiday atmosphere was completed by the beautiful notes of our choir, which was preparing for its big performance – Allison Academy's Annual Holiday Concert! The singing choir chose well-known holiday classics and started coming up with ideas for the repertoire and choreography. Considering how much effort they put into the preparations, we could not expect anything less than another outstanding performance of holiday classics bringing happiness, unity, and a joyous atmosphere to the whole school!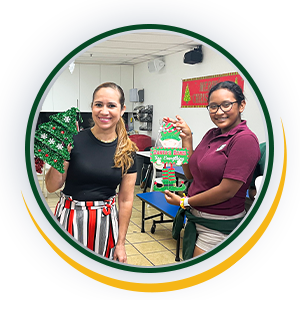 Symbolic Holiday Candy Grams
As the winter holidays approached, our Student Government prepared symbolic Holiday Candy Grams. As it is the season of giving, we decided to share the love with each other and spread the holiday spirit throughout Allison Academy in many ways, and one of them is certainly with tasty sweet snacks.
Special sweet treats were available at school, and our students shared them with friends and teachers, and some of them decided to buy them just for themselves, which proves how delicious the treats were!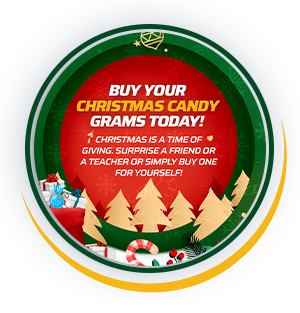 Dancing the night away in the true winter wonderland - Winter dance
One of the most anticipated events at Allison Academy finally came and no one was happier than our students. Lots of fun, laughter, dancing, and singing with dear people underneath the spotlight – that's what our Winter Dance looked like!
Our students came to this event joyfully, dressed in glittery dresses and suits, ready to have a good time. The DJ played our students' favorite songs, and they showed their best dance moves and everyone had a great time on the dance floor.The decorations certainly contributed to the atmosphere, the holiday vibe was at its peak and the evening was truly in the spirit of celebration. Allison Academy thanks everyone who attended, our parent volunteers, faculty and staff!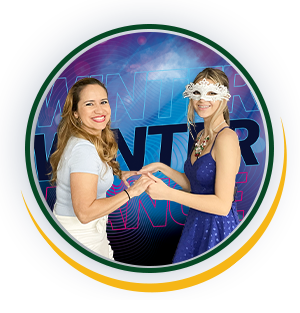 Holiday spirit reigned throughout Allison Academy - Annual Holiday Concert
The real Holiday atmosphere at Allison Academy was completed by our Annual Holiday Concert! Our choir worked hard to prepare for this performance, and the effort certainly paid off, as evidenced by the excellent atmosphere that prevailed during the concert. Allison Academy Choir graced us with their wonderful voices and made sure to deliver to the visitors the best choice of Christmas songs.
Pure holiday vibe, joyful atmosphere, and enjoyment characterized their performance, especially when it was the turn of the popular "Feliz Navidad (I Wanna Wish You A Merry Christmas)" which everyone enjoyed and sang along to. The old adage that song brings people together proved true again this time at Allison Academy!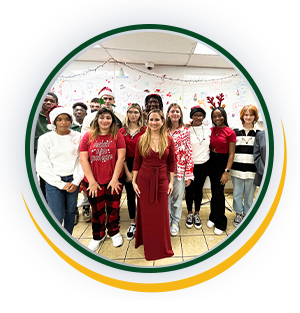 Allison Academy wishes you a Happy New Year!
Another exciting year at Allison Academy is behind us, and in the new one we expect new victories, successes, numerous activities, trips, and positive changes. We wish all our students, parents, faculty and staff a Happy New Year!