As the school year progresses rapidly towards its culmination, we continue to offer our students dynamic opportunities to foster individual growth, responsibility, and decision-making.

This week at Allison Academy has been quite an exciting one. As February progressed, our school was getting filled with interesting happenings, starting from a chance for our students to think about their future choice of college, all up to the exciting reptile show. For them, it was all about the chances to evolve, encounter new experiences, and consider the ways in which they can better themselves and contribute to the community.
The heart of our school, the cafetorium transformed several times this week for the various events we had. Take a look at how we spent this week!
Another take at the Career Readiness program
After our moving Valentine's Chorus performance this week, our upperclassmen students had the opportunity to learn about Barry University, the educational programs offered there, the school life, and other relevant information. Students were engaged and attentive and asked questions relevant to their future studies and careers. We were very proud, although not surprised, to receive feedback from our Barry University visitor telling us that we have a great group of students.
Although the majority of our senior students have already applied and been accepted to a college or university, having exposure to different alternatives remains beneficial. At Allison Academy, we hold school assemblies throughout the year with the aim of offering undecided seniors a chance to learn about a new school, while juniors who are still considering their options also get early guidance in their decision-making process by having exposure to different local and international schools.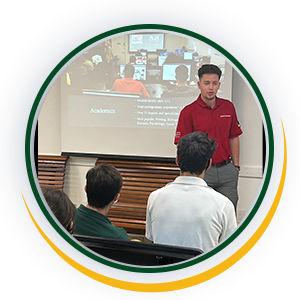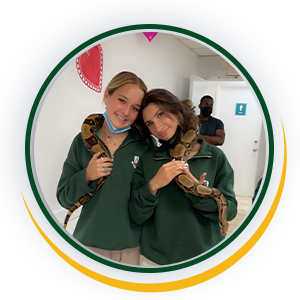 Hanging out with the scaled friends
The cafetorium transformed once more this week to host our very own 11th-grade student Miles' Reptiles Show. Miles has been an Allison Academy student since he was in 6th grade and has brought the reptile show each year ever since. Miles cares for these animals and does educational shows on weekends. Having the reptiles visit our school is always exciting for everyone involved, the reptiles included. This fun and educational show allow students to interact with these small (except the python) and interesting creatures.
Moreover, it is a most valuable learning experience since Miles not only teaches students about extinct animals and those at risk of extinction, but he also introduces the lineage and natural habitat of each animal as well as ways to help raise awareness, get involved, and preserve these precious creatures.
The garden is our school oasis
Allison Academy's garden not only serves as a proud expression of natural beauty in the school, but thanks to the great tending and care of our students who love gardening, it has yielded a bountiful harvest!
The Environmental Club has reaped the benefits of their care and dedication to the herb garden and presented our school with their very first tomato harvest. The students picked ripe tomatoes and proudly showcased them around our school. They are currently working on clearing new areas to expand their garden and further beautify our school.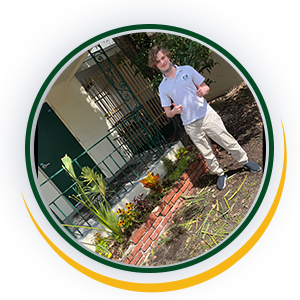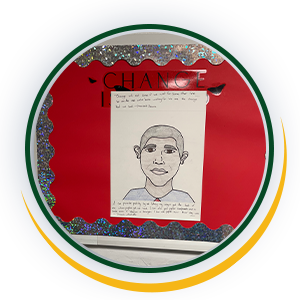 Making a difference
Mrs. Horowitz's middle school English students combined previously learned skills with their current lessons to create posters about change, inspired by ex-president Barack Obama. In the posters, the students took to thinking like activists and futurists to express how they could make a change to help others.
Mr. Obama said it best: "Change will not come if we wait for some other person or some other time. We are the ones we've been waiting for. We are the change that we seek." And since our students are always free in expressing their attitudes and ideas, we certainly believe that many of them will eventually make a difference as they develop into brave young people.
Estudiar lenguaje puede ser muy divertido
You may have heard Spanish students hablando (talking) in the hallways this past week. As it turns out, they went on a Spanish scavenger hunt to practice vocabulary and pronunciation. These fun and interactive activities present students with an opportunity to practice the language outside the classroom and learn common, everyday words. At Allison Academy, we always try to enhance textbook learning with fun and dynamic lessons, and Mrs. Horowitz is always working on the next big idea for student engagement.