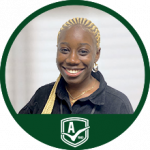 Ms. François grew up in Miami Florida and is a 2021 Florida State University graduate with a B.S. degree in Literature. She triple minored in African American Studies, Education and Retail Entrepreneurship.
Ms. François is also Fashion Designer that has been featured in several accredited magazines in Miami such as VoyagMIA and ShoutoutMIA. She wanted to bring creativity to the classroom, so she began her teaching career with Allison Academy after obtaining her degree.
Ms. François joined the faculty for the 2021 school year as a middle school reading and
geography teacher. She also teaches visual technology and high school English.