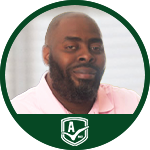 Coach Johnson attended Florida Memorial College, earned his A.S. in general studies, then attended Johnson and Wales University from 1999-2003 for his A.S. in Business Administration in 2001, and B. A. in Business Management in 2003. He was a college basketball national championship winner as a player in March of 2003. Coach Johnson was a two-time boys' basketball state championship coach during his time at American Preparatory Academy 2009-2015. Coach Johnson is now the associate head boys' basketball coach at Miami Norland Senior boys' basketball program.
At Allison Academy Coach Johnson is our Athletic Director, a proactive educator who teaches Math Algebra, Geometry in high school, and physical education/health for all grade levels.
Coach Johnson is married and has a daughter who is 17. Coach Johnson is currently pursuing a master's degree in sports management.
Email: ajohnson@allisonacademy.com