We are keeping the momentum and the high standards going as we enter the second nine weeks at Allison Academy.

The first week of November went smoothly as our students and teachers engaged in many activities that exhibited their sense of community; they acquired and practiced new skills, and shared their experiences with peers and colleagues. We are glad to see that the Allison school spirit is as vigorous as ever and keeps on growing!
It was quite a busy week of striving for excellence; check out what happened this week at Allison!
The Big Red Bus was here!
This week at Allison, our students had an opportunity to show their involvement in the community and how responsible they are by participating in the Allison Academy Annual blood drive. The Big Red Bus was parked on Allison grounds, and the students exercised their power to save lives – they found out that a blood donation from just one person can save up to three lives!
Partnership and being a humanitarian are important values that Allison strives to encourage in our students. Donating blood is a way to raise awareness and educate students about the need for it, as well as the great benefits that donating brings for the donor.
Peeking into the future
Choosing a college is a very important decision for every student; that is why it is important to think about the future academic path while still at school. This week, some of our senior students had their first encounter with the college by visiting nearby colleges and universities and sharing their experiences with their peers. They were introduced to the perks of campus life and we can surely say that every one of them looks forward to a fruitful and fun college experience in the future!
Similarly, local colleges and universities have visited our school grounds and eagerly provided the answers to numerous questions from our curious students, who are concerned about their higher education. Allison Academy, of course, ensures that every student who passes through our hallways is properly prepared for a bright future!
CSI: Miami live at Allison
Who doesn't like to play detectives?! At Allison, our students had an opportunity to experience a real-life CSI script! The students in forensic psychology class put on their detective hats and practiced lifting fingerprints from different locations, thereby exercising their analytical skills and a sharp eye.
The students are rigorously trained through the course curriculum to ensure they can thoroughly understand and analyze a crime scene, increasing their chances to catch a criminal. At Allison, these skills are always developed and practiced in a fun way, making learning a play through which learning is a pleasurable experience.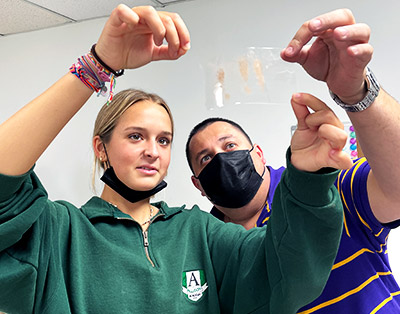 The teachers never stop learning either!
Allison is a place where everyone is bound to grow! We always strive to encourage our teachers to learn new skills and develop their understanding of modern education in order to provide the best learning experience for our students. That is why this week, our teachers took on the role of the students and attended workshops to learn new and innovative ways to incorporate digital resources and technology into their lessons to create a more engaging, effective, and efficient learning experience.
As a future-ready school, Allison Academy always offers opportunities for professional development and skill enhancement, so it can maintain and grow the environment that creates space for everyone to become ready for the requirements of the modern world.
Fashion is a way to represent! Our staff received new Allison logo shirts and are rocking them every day. The staff is as always proud to represent our school with the new, trendy design, so if you see them around, do not hesitate to compliment them on their new looks!
This week was exciting and everyone at Allison had a blast while learning new things and improving themselves. Keep up with us and we will keep you updated for the next week!