As autumn approaches the winter breeze can be felt here and there, we can smell the holiday spirit in the air!

Allison Academy students are extremely excited; the festive season has begun and preparations are underway for all kinds of celebrations. At our school, we always tend to let our students explore every season and its goodies by engaging them in various activities that are season-bound and letting them utilize their creativity and vigor in the high spirits of Allison.
Check out how our students spent the last week!
Why we're thankful this season
First and foremost, Allison Academy is thankful for its students, because all of them have an incredible sense of philanthropy and this time too they proved that they are strongly dedicated to the best interest of the community.
The spirit of Thanksgiving surges over our school, and the sense of sharing and caring is stronger than ever now! Students in the Student Council have organized the Thanksgiving food drive where collected goods will be donated to families in need during this Thanksgiving season. The belief that everyone deserves to enjoy a bountiful Thanksgiving dinner with their family and friends drove our Student Council members to share their abundance and be charitable, and we greatly endorse their leadership and support!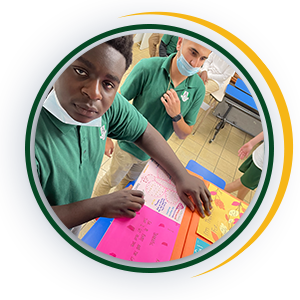 Besides being active in their community, Allison Academy's students took their time to reflect and show appreciation for what they're thankful for this year. The students used their posters as decoration for the collections box placed on our entrance until the end of the food drive, putting a unique and creative touch to their altruism. It is inspiring to see these young adults grow and recognize what is truly important and valuable in their lives, because the only way to tend the authentic Thanksgiving spirit is to be sincerely thankful for what they have in life already.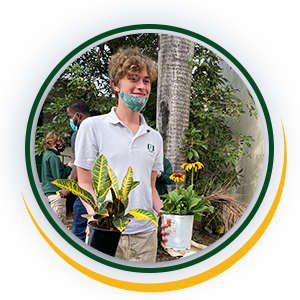 Winter garden is blooming
When the cold weather arrives, Allison's flora needs taking care of too! Members of our Science club reminded us about the importance of having a beautiful garden that is winter-ready at the right time. The students worked together to beautify the school's front garden by planting colorful flowers and yummy and healthy vegetables.
Being pretty is not enough to be protected from the harsh weather conditions, so our students made sure they carefully tended those plants by adding water, soil, and fertilizer as needed for the plants to thrive as fall and winter approach.
So, it turns out that gardening is also an important skill for Allison's students!
Paying homage to heroes
November 11th is considered a federal holiday all over the country, and Veterans Day is observed in most public institutions. At Allison Academy, our students followed our tradition to attend the North Miami Beach Veterans Day ceremony honoring all who have served our country and those who continue to preserve our freedom.
By dressing in the canonical colors of the American flag and engaging with important members of our community who are military veterans and served as guest speakers, the students honored the memory and dignity of those who sacrificed their lives and fought for the United States of America.
By holding on to the tradition, Allison Academy strives to maintain a strong sense of community and a relationship with the roots of American culture.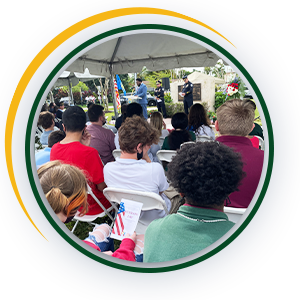 Allison Academy is warming up for the holiday festivities and we are very excited and ready for new adventures! Stay with us for the highlights of next week!